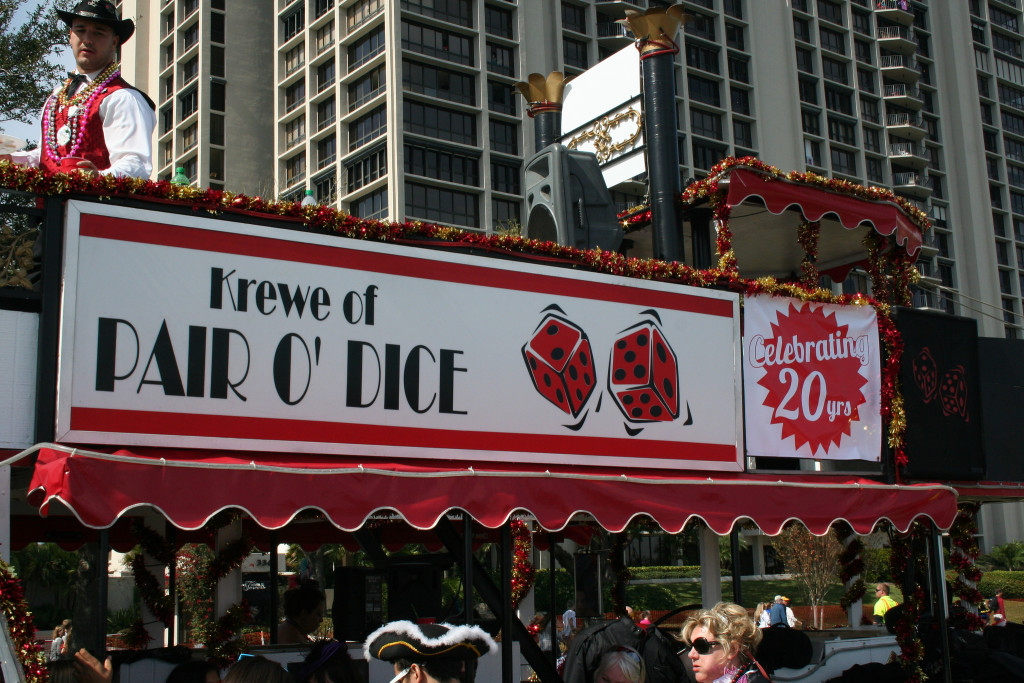 A short history lesson on our Krewe family
---
As we prepare for yet another 20th anniversary parade celebration, I'd like to share a wonderful article with you. Joel Ramos, a UF Senior, and friend of Becca Wolf, daughter of our own Michele and Josh Wolf, called and asked if I would chat with him about our Krewe – its founding and our 20 years. I was happy to do it and invited him to stop by and hang out with us pre-Gasparilla Parade. He did that and then submitted this article about our "family." Enjoy.
Gasparilla: More than just a party
By Joel Ramos
TAMPA, Fla. — As hundreds of mock pirates invaded the city of Tampa Saturday, area residents and tourists celebrated a 101-year-old tradition and one Krewe had something more to celebrate than the rest.
The annual Gasparilla Pirate Invasion and Parade of Pirates took place on Jan. 31, with hundreds of thousands of people in attendance as the "pirates" sailed across Tampa Bay to downtown Tampa on their authentic pirate ship to capture the city and celebrate with a parade down Bayshore Boulevard.
The events are inspired by the legend of Jose Gaspar, known by his self-styled nickname "Gasparilla," an officer in the Royal Spanish Navy that turned to piracy in the late 18th century and terrorized the coast of west Florida for almost 40 years, according to the official Gasparilla Pirate Fest website. It's rumored that Gasparilla left buried a treasure trove somewhere in the Tampa area that has yet to be discovered.
In 1904, Louise Frances Dodge, society editor of the Tampa Tribune, created a theme for the city's first May festival based on the legend of Gasparilla. It was so successful that the event has been repeated (barring 10 exceptions) every year since, according to the website.
Nicole Skelly, a parade attendee and lifelong fan of the festivities, said the events are ingrained into the Tampa area way of life.
"Gasparilla is the culture of this city. Nothing else brings all of us together like this," Skelly said.
The Krewe of Pair o' Dice, one of the many groups that walk in the parade alongside custom-built floats, has been in the parade since 1996 and celebrates the 20th anniversary of its founding this year.
Yvonne Painton, one of the founders of the Krewe and the brain behind its clever name, formed the Krewe together in late 1995 with her two sisters and their husbands after choosing not to join an established group but instead start their own.
"We started as a family and we'll remain a family," Painton said.
In Krewe of Pair o' Dice, there is no member hierarchy. Everyone is considered equal and membership is not open to the public — everyone must be referred by an existing member, according to Painton.
As you would expect in a family, the Krewe treats its members well. They have full catering and a top-shelf open bar for every parade they attend. Their two-story float, which is styled after a riverboat and Painton estimates is worth about $85,000, is 55 feet long and even has a bathroom on board.
"We call it having the most fun you can with your boots on," Painton said.
The Krewe's activities are funded by member dues as well as sponsorships from national and local businesses including NAPA Auto Parts, Northside Insurance, and Children's Urology Group.
In addition to the festivities and celebrations, members of the Krewe of Pair o' Dice also use the group as a vehicle through which to benefit the local community.
The krewe, a 501(c)(7) nonprofit social organization, donates both time and money to the Animal Coaliton of Tampa, St. Francis Animal Society, and Good Samaritan Mission of Wimauma.
"We wanted to take on charities that were local, grassroots charities," Painton said.
Efforts they have been a part of include building The Animal Coalition's first clinic and donating proceeds from an annual raffle to Good Samaritan Mission for the purchase of Christmas presents for underprivileged local children.
Above all, the Krewe's founders and its members are devoted to upholding the strong sense of family within the organization.
Although Painton and the other founders are retiring from the board after this year, they have no plans to walk away, and they're confident that the Krewe will continue on the same path without their leadership.
"If you feel warm and fuzzy, we've done something right. I love every person in this krewe like a brother or a sister," Painton said. "If your house burns down, guess what? This whole krewe will be there."
---